Grand Rapids Federation Of Musicians
233 Fulton St. E #Suite 210 G
Grand Rapids MI 49503

616-451-4374
email: grfm@livemusicgr.org
The Grand Rapids Federation of Musicians is Local 56 of the American Federation of Musicians, AFL-CIO, a labor union of over 100,000 professional musicians in the US and Canada.

Contact Us For an Application
OR
Get an application & instructions here.
Application approval is dependant on receipt of applicable fees and dues. Applicants must live in the Local 56 jurisdiction or belong to another AFM Local. Contact us for details.
To Become A MemberThere are a lot of ways that musicians are vulnerable. Don't let it happen to you. Join Local 56 or call to learn how you can be protected along with the many other benefits of being a professional union musician!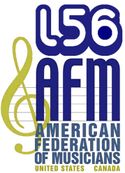 We are a Union OF Professional Musicians, run BY Professional Musicians FOR Professional Musicians. We are Local 56 of the American Federation of Musicians of the United States & Canada. It collectively represents hundreds of thousands of professional musicians.
Click here to visit their official website